"Empowering The Kisii Community"
Who Are We?
This website was built to bring attention to the struggle and plight of Kenyans who have taken on insurmountable odds to help their fellow man. Kenya is located in East Africa and has approximately 35 million people. It is sad to say over a million are children who have lost their parents to AIDS. Kenya is second to South Africa with the most infected population with HIV/AIDS in Africa.
This HIV/AIDS disease have destroyed so many lives and left so many kids with no one to care for them. Thank God for the grandmothers, sisters, brothers and other relatives who have reached out to help these kids. We applaud the Churches, NGOs and other Organizations who have come to their rescue. They need our help to continue to help those who have nothing.
This Website highlights each Church, NGO and Organization who have reached out for help. We have assisted them by sending over Grants they are eligible to qualify for. The following Webpages will tell you something about them and what they are doing in their Community and how you can help. The web-pages are written letters and statements in their own words.
We invite you to contact them. If there is anything you would like to do to help please do. We need your prayers, please spread the word. Thank You!!
WE WELCOME ALL MISSIONARIES TO COME OVER AND SPEND SOME TIME IN KENYA., especially Rural Kenya
Servant of God Ministries, Inc
I asked the Lord to show me what I could do for Africa. We see many Specials on TV concerning the AIDS Crisis in Africa. We hear about the diseases, unclean water, starvation, droughts, malaria, child slavery, genocide and so many other terrible things happening in Africa, I wanted to reach out and do something; I decided to use my knowledge and skills by doing research for Grants and Foundations that could provide financial aid for Africa. By the grace of God I decided to send some info on some Grants, Foundations, and Businesses that are available to help the Churches, NGOs and Organizations in Africa. Thus was the birth of this website Empowering The Kisii Community.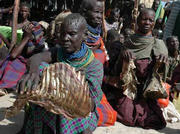 One Person Can Make a Difference
The Kisii Community have many Soapstone Carvers who desire to do business Worldwide, you can view over 300 of their products at this site: http://picasaweb.google.com/rbrafrica Let us know if you see anything you would like to order. Thank You
He that hath pity upon the poor lendeth unto the LORD; and that which he hath given will he pay him again.