RITEMBU SHG
NICOLUS MORANGA OMUNDI, COORDINATOR
NYAKWERIGERIA RITEMBU
SELF HELP GROUP
,
REF;EDUCATION PROJECTS,
WE ARE NYAKWERIGERIA
SELF HELP GROUP
DEALING IN EDUCATIN POOR CHILDREN ,ORPHANS FROM PRIMARY,SECONDARY,TERTIARY INSTITUTES AND UNIVERSITIES.
WE CURRENTLY HAVE URGENT NEEDS TO BE ADDRESSED CONCERNING TAKING SOME CHUILDREN TO SCHOOL.
MOST OF THEM ARE OUT DUE TO LACK OF SCHOOL FEES.
WE COVER A POPULATION OF OVER 10,000 PEOPLE IN THE COMMUNITY.
OUR ORGANIZATION 2 6 MEMBERS DRAWN FROM ALL CATEGORIES.
WE SEEK FUNDS FROM DONORS TO ENABLE US EDUCATE THE CHILDREN.
WE ARE READY TO GIVE ACADEMIC QUALIFICATIONS OF EACH CHILD IN AN INSTITUTION ATTENDED OR INTENDS TO ATTEND OR HE OR SHE IS RIGHT NOW.
PLEASE FIND SOME PASSPORTS OF THE NEEDY ONES.
MORE COMING.
WE LOOK FORWARD TO BE RECEIVING YOUR GENEROUS DONATIONS TOWARDS HELPING OUR CHILDREN.
THANKS AND STAY BLESSED AS YOU MAKE DECISION.
SINCERELY,
NICOLUS MORANGA OMUNDI,
NYAKWERIGERIA RITEMBU
SELF HELP GROUP
,
P.O BOX 1841 KISII 40200
KENYA
.
TELEPHONE: 254733615717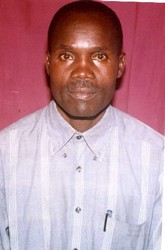 Mr. Omundi
This is a great Training Institute, we have the complete list of courses offered and the cost of each. If you desie to sponsor a child or adult please contact this Institute at the email given. Education is the key to eradicating poverty and improving one's life. Gaining knowledge is a gateway to success!
P.O BOX 1841 KISII 40200 KENYA