RIVERS GLORY
Joshua & Lillian Ngei
Greetings in the Mighty Name of Jesus Christ.
We are a Christian Organization (Church) located on Kayole – Soweto Slums in Eastlands.
We have Eleven branches all over the country with junior Pastors that he has mentored.
We are already running a few Programmes as funds have allowed us. Considering the population coverage in this area, we have not been able to meet the needs of this community to the maximum and thus the need of sending this proposal.
Enclosed herein, please find our detailed proposal to be considered for funding. We would very if considered at any level to help us in this worthy course.
We look forward to hearing from you and your kind consideration.
Yours faithfully
Lilian M. Ngei
PROGRAMME DIRECTOR
RIVERS
GLORY CENTER
KAYOLE/SOWETO CHURCH
PROPOSAL FOR FUNDING
Destitute, Abandoned, Orphans & Vulnerable Children
and promotion of sustainable initiatives
&
Care and Support for People living
with HIV/AIDS (PLWHA)
Background to the Project
.
Objectives:
1. Establish an Orphanage for the destitute abandoned malnourished children and Orphans.
2. Establish a comprehensive care clinic to take care of medical challenges to accompany HIV/AIDs including medication/treatment of opportunistic infections (TB/STIs, Diarrhoea, Cholera, Bilharzia, Amoeba. malaria) etc.
3. To run income generating activities
Activities
1. Run a primary school within the orphanage and provide basic needs
2. Train in income generating activities and promote savings and loans scheme
3. Provide seed money as a revolving fund to fund immediate capital to members for their business
4. Train caregivers to give better care to orphans and other vulnerable children
5. Run a feeding programme within the school
1) Introduction:
Rivers Glory Centre has begun regular and intensive involvement in working in Soweto slums and other regions in Nairobi, Nyanza, Eastern and Western provinces on issues of HIV/AIDS. Rivers Glory Centre is convinced that filling the existing gaps of informing young children and Orphans about this threatening and destructive disease HIV/AIDS.
Rivers Glory Centre wants to give hope and ensure care and support to the destitute children and orphans through psychosocial support. Rivers Glory Centre aims to strengthen the children's sense for responsibility towards their school, mates, brothers and sisters.
p labour and early marriages.
Proposed Activities immediate needs:
· Rivers Glory Centre struggles to bring on board 125 destitute children and orphans, 250 caregivers and grandmothers about changing conducts and finally serve to strengthen and encourage the orphans to face life with hope and enthusiastic.
· Establish a general outpatient clinic to cater for the HIV/AIDS clients
· Acquire a van for use of various project activities
· Recruit key staff e.g. project manager, medical personnel and support staff.
· Acquire adequate space (land) for the construction of the site.
· Seed money for revolving fund
· Feeding programme funds
· Training funds
Establish Drop in Centres:
Rivers Glory Centre will establish 3 centers in 3 villages (slums) of Soweto, Mathare & Mwiki within Nairobi initially and when funds will be available, it will extend to other branches within country in Meru, Kitale, Kisumu, Makueni & Kajiado etc. In these centers the destitute children, orphans and young people will acquire life skills and confront their daily challenges of malnutrition and HIV/AIDS that includes change of Knowledge, Attitude and Practice (KAP). Orphans and young people sought to promote positive health life style and attitude, faith at human value, abstinence and positive behavioural change in lives of the destitute malnourished children, orphans and young people. Once this has been done the destitute children and orphans will also reach the community with the same information in all the 3 villages we expect them to reach about 1500 young people.
This is just a small part of the Proposal, you can download it upon request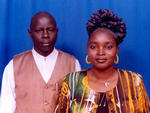 If You Would Like to Help This Organization, Please Email Them.
This Couple has taken on a huge task, working with, Orphans, at risk Youth, and the HIV/AIDS crisis. They have established Drop Centers also, please reach out to help them.
Cost To Sponsor A Child
NB. A) Cost per child a month $ 170
B) Cost per child a year $2,040
Finally, in the World today, desperate people both economically and psychologically are many. One wonders who is ready to put himself/herself in their shoes and empathize with their miserable situation. It is time now to respond together in sharing the problem through either sponsoring these needy children, sending donations, building a home for them, choosing to pay their fees, clothing, food etc.
It is our prayer that you will humbly and kindly respond.
Yours faithfully,
Mrs. Lilian M. Ngei
River Glory Pictures
To see more pictures of Rivers Glory, go to this link: